Lost Painting of "The Artist in his Studio"
Arrowood Reproduction after Rembrandt
Oil on gessoed Hardboard 10 x 13
*$500.00 *Reward Offered for Information Leading to Return**
No Questions Asked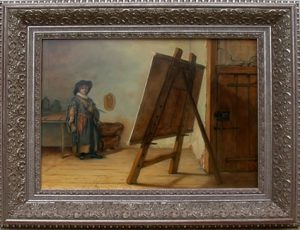 .
.

.
       "In the spring of 2001, I was contemplating doing a reproduction of Rembrandt's "Christ in the Storm on the Sea of Galilee"; however, finding a good reference had, thus far, proven to be a problem. I found four versions, so different in color, that they could have been four different paintings…That can make it almost impossible to match a painting's actual color. Studying the Master's palette is helpful, but studying the Master's original is preferable.
       My problem appeared to be solved on a cold gray day in May 2001 when, by chance, I found an Isabella Stewart Gardner Museum brochure lying on the floor at the Boston Museum of Fine Arts. It featured Rembrandt's "Storm" and on learning that the Gardner was only a few blocks away, I made plans to view the Rembrandt the following day.
      Unfortunately, the brochure was misleading. Rembrandt's "Storm" was no longer displayed at the Gardner…I, along with art lovers worldwide, had been robbed one evening years before on St. Patrick's Day. On that evening in 1990, two men in police uniforms, faked their way into the Museum, bound and gagged the security staff, and cut the "Storm" from its frame.
       Included in the theft were several other masterpieces by Rembrandt, Rubens and Vermeer. It was the greatest, and as yet unsolved, art heist in US history. Over twenty years have passed since the infamous theft, and Rembrandt's only seascape and the other paintings remain lost to all of us. The case is still open and the painting's empty frames still hang in place at the Gardner Museum. A five million dollar reward awaits the return of Rembrandt's "Storm" and the other stolen works. yha
.
Lost Painting of "The Artist in his Studio"
Arrowood Reproduction after Rembrandt
Oil on gessoed Hardboard 10 x 13
*$500.00 *Reward Offered for Information Leading to Return**
No Questions Asked
Click her to Visit the Sacred Art Gallery