Robert L Bruns
Art Teacher Remembered
Click this link to preview the book!
Robert L Bruns
1913 – 1977
Once upon a time, I met a kind and gentle man,
His name was Robert L Bruns…
(The brief Bruns' bio below was written in April of 1962, as part of my eighth grade South Carolina History project at Greenville Jr. High School. It was the only written facts to which I had access when I began my dedication site to Mr. Bruns. Now there is a book. Click on the "link" above to preview a more complete biography, portfolio selections, teaching methods and tributes. Scroll past the brief bio here to view samples of his work.)
       Robert L. Bruns, portrait painter and instructor, was born in Greenville, South Carolina on December 29, 1913. His father, John Fredrict Bruns, was a watchmaker and jeweler as was his grandfather, George Bruns, who came to America from Hanover, Germany. His mother, Agnes Ewbank Bruns, was a descendent of Lucas, court painter to the French Court during the 1500's. Another ancestor, Whitenback on his father's side was private physician to a blind German countess. Whitenback also built the first apartment house in Berne, Switzerland…It is still standing today.
       In 1931, Bruns graduated from Greenville Sr. High School. He served in the army during World War II, where he ranked as a First Lieutenant. Two years after the war, he went to New York where he studied for three years at The Art Students League of New York. He studied under a number of well-known artist and sculptors. His instructors included John Carroll, who placed Mr. Bruns in charge of his studio for two years; Other Instructors included Frank V. DuMond, sculptor John Hovannes, water colorist John McPherson, drawing anatomist Robert Johnson and illustrator Frank Riley.
      In 1949, Robert Bruns left for France and enrolled at the Academie de la Grande Chaumière in Paris. Following his return to the United States, he set up a Studio in Greenville in 1950 and founded the Bruns School of Painting in 1951 in South Carolina. He married Peggy Bailey in 1958 and continued to live and work in Greenville, South Carolina.
      His best-known canvases are: The Vanderbilt Grandchildren (portraits, Ashville, North Carolina); General Wallace (South Carolina House); Old Greenville (C & S Bank); and Rev Newman Faulconer (the first Presbyterian Church, Greenville, SC).   (to be continued)
       A man of Mr. Bruns talents should not be forgotten. As a teacher, Mr. Bruns encouraged his students to excel and applauded their accomplisments with unselfish joy. Please contact me if you would like to honor Robert L. "Bob" Bruns with a tribute, or to provide biographical information or examples of his work in a future update to Robert L Bruns, Art Teacher Remembered.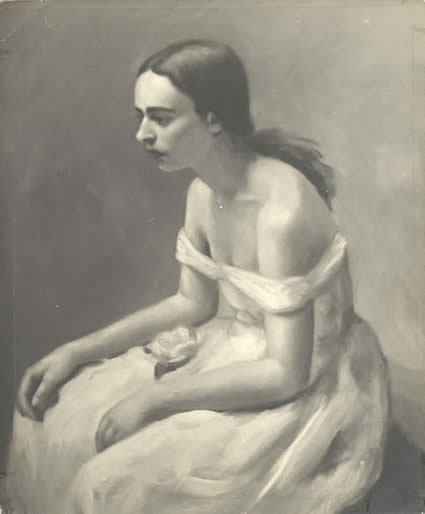 Painted from life at the Art Student's Leaque of New York in 1947, "Tired Ballerina" was selected for Option by the ASL in the Student Concourse, spring of 1947.
According to Mr. Bruns' records, this painting was in a private collection in New York City. I thought that I remembered seeing a similar painting at Bruns' West Washington Street Studio in the sixties; however, I have since located the"Tired Ballerina" above. It was inherited by a niece of the New York owner, and is featured in my book.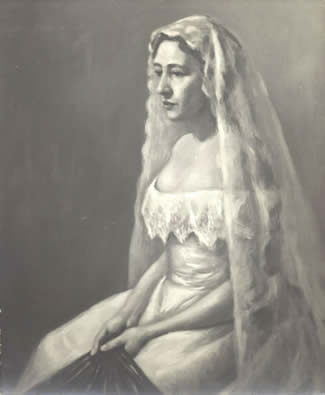 Mr. Bruns painted this portrait in 1953. On December 14th, 2006, it remained in excellent condition. I was fortunate to see many of his works in progress – from blank canvas to quick sight drawings in turpentine-thinned veridian, to color application and creation of form.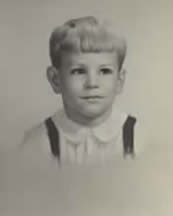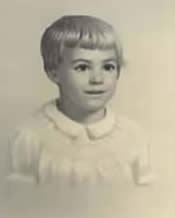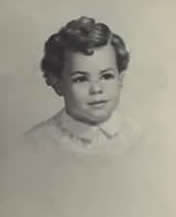 Bruns Pastel Portraits – Circa  1960's  (Vanderbilt/Cecil Family)
Please help locate the Bruns' painting of this Young Girl.
Mr. Bruns painted Lynette's portrait between 1974-75. It may have been auctioned a few years after his death in 1977.  She was wearing a red t-shirt in her portrait.