Museums Experiences at: the Louvre, the Accademia Carrara, and the M & G at BJU
"It is in the museum that one learns to paint." Renoir

"…the majority of the world's greatest museums (the Prado in Madrid, the Louvre in Paris, and the National Gallery in London, for example) were founded for the express purpose of providing artist with the means to learn from the great masters. Today art educators tend to smile at this approach, and yet the study of the old masters is still the easiest and most profitable way to train a painters eye and hand." Lester Cooke (1916-1973) – Former Curator, National Gallery of Art
On painting at the Louvre: "I realize that it is not a momentous event in a universe where man has left footprints in the moon dust, but I am awed, that my personal boundaries, now include a few moments painting before a Master's work in the world's most famous museum. I will be forever grateful for such an opportunity." (Journal entry October 2004)

On painting at the M & G at BJU: "I was no less excited painting at this wonderful museum than at the Louvre in Paris. Note: This museum is now closed, as they move forward on a plan to create a new museum that will better house their world famous collection in a new Greenville SC location.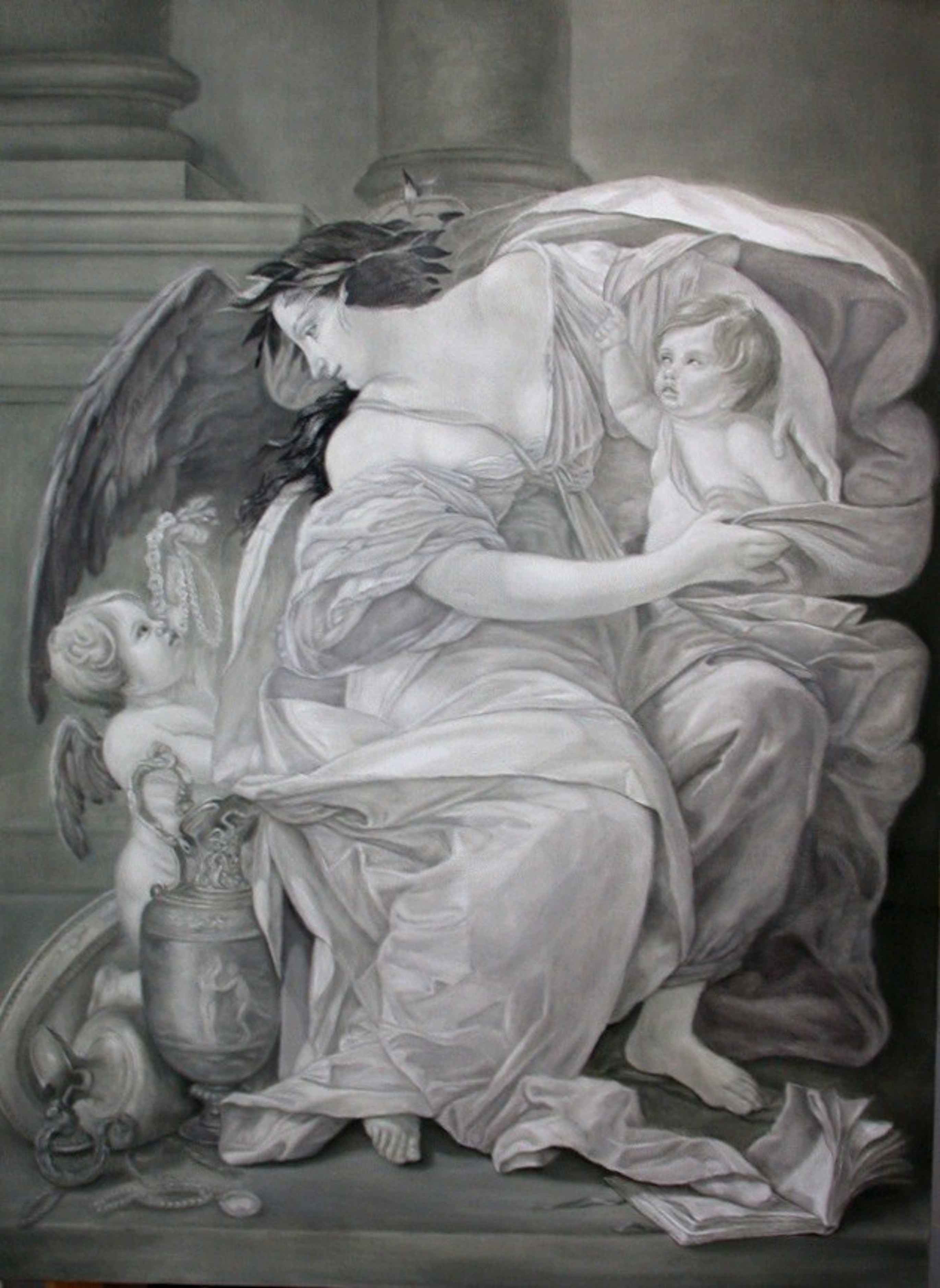 Underpainting: An accurate value rendition of a subject. Often the old masters created underpaintings in brown, gray-green, or gray. A well-rendered underpainting separates the problems of form from those of color. The application of transparent color glazes will not conceal the faults of a poorly executed underpainting…The application of opaque color is facilitated by a good underpainting.
My underpainting was prepared as a grisaille (gray values); however, while working before the original at the Louvre, it appeared as though Vouet may have used a reddish brown like burnt sienna under much of the original. French painters often used a grisaille while many of the Italian painters preferred verdaccio (greenish) underpaintings.
" I realize that it is not a momentous event in a universe where man has left footprints in the moon dust, but I am awed that my personal boundaries now include a few moments painting before a Master's work in the world's most famous museum …I will be forever grateful for such an opportunity." (Journal entry October2004)
---
2005 Greenville Sister City Project with Bergamo, Italy
A color study for this reproduction was painted on site in Bergamo, Italy. When it is sold at or above $20,000 – plus agent's ten percent, the proceeds will be split between the museum in Bergamo and a Greenville museum of the artist choice.
The original painting of Giovanni Batista Riva's Morte di Atala in 1859 was likely inspired by the 1813 portrayal of The Burial of Atala by French artist Girodet. Riva's Atala is displayed at the Accademia Carrara in Bergamo, Italy.
Girodet, himself, was inspired by the 1801 novel, Atala, or The Love of Two Savages in the Desert by François-René de Chateaubriand. This American-Indian tragedy was set in 18th century Louisiana. It is the tale of a Christian half-Indian maiden, Atala, who frees the Indian brave Chactas from his enemies (her family) and finds refuge from a storm with him in the cave of the religious hermit, Father Aubry. Years before, Atala had made a vow to her dying mother to consecrate herself to God. Now, believing that her growing love for Chactas will make her vow impossible to keep, Atala takes poison to end her life. It is the quiet sadness of Atala's lifeless form and Chactas' sorrow that imbue Battista Riva's painting in Bergamo with its tragic beauty – subtle overtones of Romeo and Juliet.